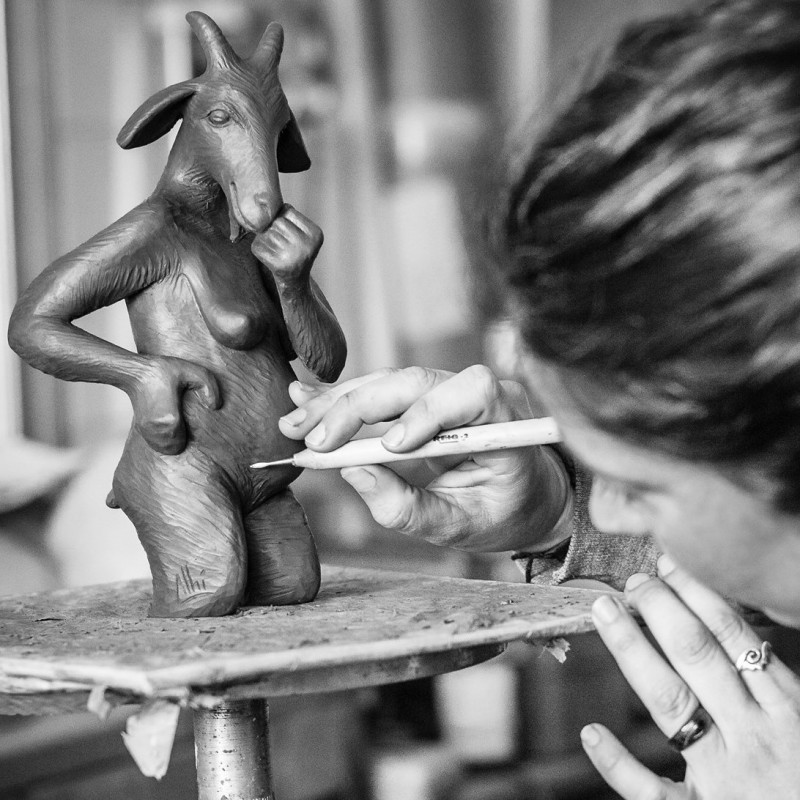 Alhicia Prieto Lopez was born on November 21, 1978 in Jerez de la Frontera.
Since she was a child she displayed great artistic abilities by constructing some of her toys in her father's carpenter shop and by decorating her school's theatre, where she won two awards for her poetry, and was recognized as a very creative artist in different disciplines.


When she was 13, her calling to the arts very clear already, she excelled in the school of arts of Jerez de la Frontera (1993/1998), receiving her degree in "artistic woodworking" and participating in her first exhibition in the "Cloisters of Santo Domingo".


In 1999, while still woodworking, she attended to carving courses in Sanlúcar de Barrameda (Castillo de San Diego).


In 2000, deciding to broaden her technical knowledge on sculpture, she attended a wood carving monographic in Sevilla and two years of "Art applied to stone".


She worked with artisic forge in the "VII international course of paintings and sculpture" in 2002, directed by Antonio Lopez, where she met Victor Ochoa, who was impressed by her work and talent, like many other artists such as Padilla and Cutilleiro, who encouraged her to follow this difficult path...


She participated to the artistic ceramics contest of Sargadelos, Galicia, in 2003.


Since then, she began an independent career, devoting herself to performing her art in different quarries in Spain and Portugal, feeling the need to share her view from the spontaneity of the beginning to the precision of the end, by placing importance to small details into an armony of shapes (focusing mostly on marble, and giving volume to the lines, movement to volume, feeling to the movement and life to the stone.)


In 2005 she participated to the symposium of Borba, Portugal.


In 2009 she was honored for her work in the city she was born, Jerez de la Frontera.


In the following four years she has recieved many awords in different contests, like in the XVIII certamen Villa de Rota "Fundación Zoilo Ruiz Mateos" (Cádiz)


Nowadays, she continues to search for the elegance, delicacy, sensuality and simplicity of beings in the stone, working with other materials as well, such as wood, clay, iron, bronze, where she finds the strength of each material, giving us a sharp and critical view of our society, as in the collection "social methamorphoses".


All all artistic trends, since prehistory, and everyday life, serve as a source of inspiration, being her work a very current and personal figurative abstraction.